Michael Mooney's Story (Updated November, 2012)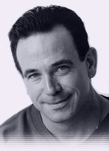 Because his early childhood was plagued with numerous health problems Michael Mooney began looking into natural health care, "health foods" and orthomolecular nutrition at the age of 14, in 1967.
His health improved rapidly and Michael's growing passion for nutrition attracted the attention of his biochemist father.
Under his father's mentorship Michael began to investigate progressive nutrition and in 1977 they co-founded SuperNutrition Life Extension Research, to research nutrition and dietary supplements, lifestyle, and exercise as tools to improve health, intelligence and extend human "healthspan" and perhaps, lifespan.
Today Michael is the Director of Research and Education at SuperNutrition and works with his father to create the SuperNutrition multivitamin and mineral formulas that are best-sellers in stores like Whole Foods Market as well as continually researching the ever-evolving science surrounding nutrients as dietary supplements.
Because he was brought up to give back to the community, although he is HIV-negative, Michael responded to the AIDS crisis when it first appeared in the early 1980's by helping HIV-positive friends research information about complementary and alternative medicine (CAM) and nutrition for better long-term survival.
Michael lost his best friend to AIDS-related wasting disease early in the AIDS crisis (he died in a hospital at 80 pounds). This was the prime motivation that sparked Michael's HIV/AIDS work.
In the 1980's Michael also provided nutritional consultation, lectured and worked in the field helping bodybuilders and other fitness enthusiasts improve their performance, lose bodyfat and stay healthy.
During this time Michael wrote a column for Hardgainer, a consummate natural bodybuilding magazine. What he learned working in the fitness community set the stage for his research related to the medical use of nutrition, exercise and hormonal intervention as wellness tools to improve health for people with HIV/AIDS and other pathologies.
Volunteerism
In 1993, in an effort to help the HIV public gain more understanding of CAM HIV/AIDS therapies, Michael produced a free public forum at the West Hollywood, California Community Auditorium.
When the forum drew an audience of over 200 people because of a two-page story Michael placed in Los Angeles' New Times newspaper, Michael realized his calling as an AIDS treatment advocate.
After being asked about testosterone use for HIV therapy by HIV-positive friends, and seeing his friends get healthier when they were put on testosterone therapy, Michael began investigating potential medical applications for testosterone and other anabolic hormones in 1994.
In 1995, Michael met Nelson Vergel by introduction of internationally recognized hormone therapy expert Mauro DiPasquale, M.D.
Vergel, a resident of Houston, was HIV-positive himself and was already using doctor-prescribed testosterone and other anabolic hormones along with progressive nutrition and exercise as parts of his personal wellness program. Nelson was practicing what Michael had been studying far away in Los Angeles.
Their commonality as treatment enthusiasts yielded Michael a role as voluntary Director of Research and Education for Nelson's new non-profit organization, Program For Wellness Restoration (PoWeR). PoWeR is a non-profit research and educational organization that focuses on a comprehensive approach to HIV/AIDS wasting and body composition problems utilizing nutrition, exercise, and hormonal intervention.
Journalism
During the time that Michael and Nelson became friends and co-workers Michael began writing regularly for Muscle Media magazine. Michael's two years of exposure to Muscle Media's 300,000+ readers helped PoWeR spread the word around the United States and the world that the medical use of testosterone and other anabolic hormones, along with the progressive use of high-potency vitamins and other dietary supplements and eating a natural, whole-foods diet while getting regular exercise could help improve HIV health and longevity.
Consulting And Lecturing
Because of Michael's love for science and the medical literature and his progressive approach he has been a consultant to medical doctors, dietitians and the HIV public regarding hormonal and nutritional therapies and exercise for HIV/AIDS.
Michael has given over 150 lectures to the general public and the HIV community and their doctors, dietitians and caseworkers. Topics have included progressive nutritional topics, The PoWeR Guidelines for HIV, anabolic hormone therapy, exercise, and politics related to natural health care.
During the five years Michael lectured on HIV topics, because of Michael's attention to detail, his knowledge of published medical journal studies, his animated speaking style and his willingness to talk about critical issues doctors don't cover, Michael broke all world attendance records on multiple occasions, including filling West Hollywood's Pacific Design Center's largest room with 395 people.


Pacific Design Center, West Hollywood, California